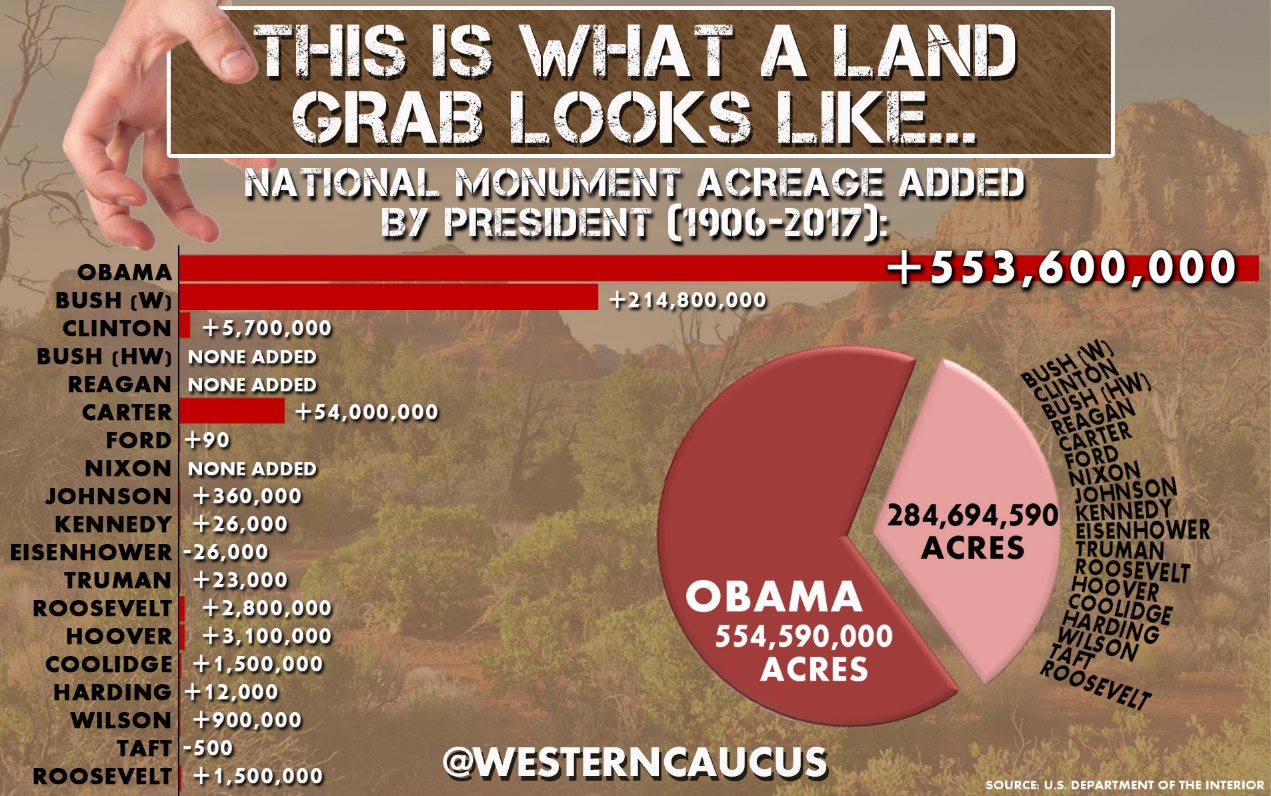 Two weeks ago the 17 members of the Congressional Western Caucus — which includes Nevada's Rep. Mark Amodei — took Interior Secretary Ryan Zinke up on his request for feedback on what to do about all the national monuments created in the past two decades, sending him a letter with specific recommendations about 27 of those monuments.
These recommendations called for vastly scaling back the size of two monuments created by President Obama in his last year in office at the urging of then Sen. Harry Reid — the 300,000-acre Gold Butte in Clark County and the 700,000-acre Basin and Range in Nye and Lincoln counties.
The letter repeatedly points out that the Antiquities Act of 1906, which authorizes the president to create monuments, was passed in order to protect prehistoric and Indian ruins and artifacts on federal land in the West and the law limits such designations to "the smallest area compatible with proper care and management of the objects." While earlier monuments averaged 422 acres, several of Obama's designations exceeded a million acres, the letter notes.
Zinke's review of the monuments comes at the behest of President Trump, who in April asked for the review in an executive order, giving Zinke till Aug. 26 to comply.
As for Basin and Range, the congressmen point out it is larger than Rhode Island and was created as "a personal favor to then-Senate Minority Leader Harry Reid. According to a former Obama adviser, 'it is only due to Harry Reid that [Basin and Range] is getting done.'"
The letter quotes opposition to the monument from the Nevada Farm Bureau, as well as Lincoln and Nye County commissioners.
Nye County Commissioner Lorinda Wichman called the monument "an excellent example of hypocrisy," noting that Reid insisted on local consent for the construction of a nuclear waste repository in Nye County at Yucca Mountain, which many in Nye favor, while ignoring the lack of local consent for Basin and Range, which many opposed because of its impact on recreation, grazing and mineral exploration.
The letter also points out that one of the motives for creating Basin and Range was to provide a buffer for an "art" project on a strip of private land, which has nothing to do with protecting antiquities.
According to a Washington Post article in 2015, Reid, who for two years could not get Congress to go along with his proposal to put the land off limits, asked Obama to create a national monument partly as a buffer for a giant earthen and concrete art project called "city" and described as "reminiscent of a ceremonial Mesoamerican city stretching across an expanse of desert nearly the size of the Mall" in Washington. The "artist" has been working on it for 50 years and allows only VIP visitors and journalists to view his work.
"Explain it to me," the paper quoted Reid quoting Obama.
"I can't," Reid said he replied.
Though both Amodei and then-Rep. Cresent Hardy, in whose districts the monument is located, opposed it, Reid persuaded Obama, who owed him a favor or two for such things as ObamaCare and ending the filibuster for judicial nominations.
The WaPo story ends thusly:
"This was on nobody's radar screen, and it certainly wasn't part of the plan," said one person close to the president who has been involved in the discussions. When the question of possible controversy was broached, Obama said: "I don't care. I want this done."

Reid visited (Michael) Heizer's art installation and its remote environs in 2007. He said he went "to check off a box." But the visit changed him. "I became a convert. … You have this magnificent work of art that this man spent half a century working on. And that's quite a story."
The caucus letter recommends the monument be reduced to about 2,500 acres — "the smallest area compatible with proper care and management of the objects to be protected."
As for Gold Butte, the letter notes the designation specifically bans grazing and suggests it was "political retribution" against the Bundy family, whose cattle have grazed in the area for more than a century. Cliven Bundy and four of his sons are currently in jail awaiting trial on charges growing out of an armed standoff in 2014 when BLM agents attempted to confiscate their cattle.
Gov. Brian Sandoval said the monument designation bypassed Congress and the public.
In January, Amodei and Sen. Dean Heller introduced the Nevada Land Sovereignty Act, which intends to prevent the threat of executive action designating or expanding national monuments without Congressional approval or local support.
"Whether you agree with our proposals or not, I have always supported a public and transparent process which includes input from interest groups, local communities, and elected representatives,"Amodei said at the time. "Unlike all of our Nevada lands bills that allow stakeholders an opportunity to voice their concerns and ultimately reach a consensus agreement that achieves bipartisan support, the Obama Administration has repeatedly bypassed Congress and local input."
Heller said, "Late last month, without even having a say in the matter, Nevadans witnessed the executive branch quickly lock up hundreds of thousands of acres of local, public land with an effortless stroke of the pen. No matter which political party is occupying the White House, these types of unilateral federal land grabs by the executive branch should not be allowed."
The caucus letter quotes former Rep. Hardy as stating: "If you want to protect the petroglyphs, and you want to designate that as the monument, that's what the Antiquities Act was set up to do, is protect the minimum possible footprint of that of what you're trying to designate. Not an extra 300,000 acres on top of the 50-100 acres that you could have protected."
The letter itself did not state any specific size for Basin and Range.
In concluding remarks, the congressmen argue: "The Antiquities Act of 1906 is broken and in desperate need of reform. No one person should be able to unilaterally lock-up millions of acres of public land from multiple-use with the stroke of a pen. Local stakeholders deserve to have a voice on public land-use decisions that impact their livelihoods."