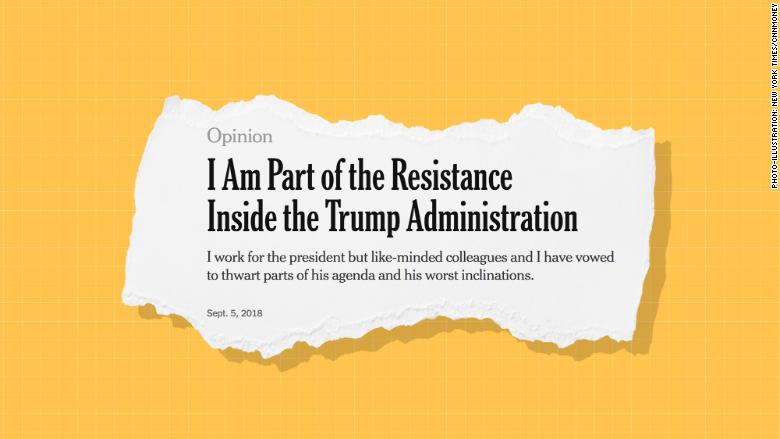 I hadn't bothered to read the original anonymous op-ed in The Gray Lady attributed to "a senior official in the Trump administration."
But there has been so much ink spilled over this ink spill that I decided I should peruse and evaluate. Frankly, I'm not convinced it is not an elaborate hoax on The New York Times. There is nothing in it that reveals insider knowledge. The closest the piece comes is when it says Trump was upset that his aides had convinced him to expel too many Russian diplomats over the poisoning of a former Russian spy in Britain.
But The Washington Post reported in April that Trump was upset that the U.S. was expelling 60 Russians while the French and Germans were expelling only four each. "There were curse words," one official told WaPo. "A lot of curse words."
And the anonymous op-ed's claim that there were "early whispers within the cabinet of invoking the 25th Amendment" seems highly implausible given the political devastation and utter futility of such a move. The 25th was designed to give the vice president the ability to function should the president become comatose, not merely "impetuous, adversarial, petty and ineffective," as anon attests.
The paper insists it adequately vetted the piece and its not from some low level mope.
Now, some of anon's observations are smack on, such as:
The root of the problem is the president's amorality. Anyone who works with him knows he is not moored to any discernible first principles that guide his decision making.

Although he was elected as a Republican, the president shows little affinity for ideals long espoused by conservatives: free minds, free markets and free people. At best, he has invoked these ideals in scripted settings. At worst, he has attacked them outright.
But you don't have to be a White House insider to see that. I've noted that Trump has changed political parties more often than some people change their socks. He has no philosophical moorings.
Trump has characterized the anonymous writer as a traitor in one of his ubiquitous tweets. Some have criticized the writer for hiding behind the shrubbery of anonymity and not having the courage to resign and put his or her name to the criticism of Trump's whims and foibles.
As for me, if this is really an administration insider with the ability to thwart some of Trump's baser instincts, good. Glad to see there are people who put the country first. Trump is not the pope. He is not infallible. He's not the king. He is just the guy who lucked out and got handed the job.
Anon characterizes himself or herself and others inside the administration as "unsung heroes," who "have gone to great lengths to keep bad decisions contained to the West Wing, though they are clearly not always successful." And, yes, I do take comfort in the possibility of there being "adults in the room. … trying to do what's right even when Donald Trump won't."
Though he or she says, "Meetings with him veer off topic and off the rails, he engages in repetitive rants, and his impulsiveness results in half-baked, ill-informed and occasionally reckless decisions that have to be walked back," anon gives the administration, if not the president, credit for "effective deregulation, historic tax reform, a more robust military and more."
If all is above board and as the writer makes them out be, well, I'm glad there are some adults aboard this ship of state willing to try to wrest the rudder from the drunken captain before he runs aground. And I'm glad we have been offered this peek inside … if that's what it truly is.
I remain skeptical but hopeful.