The Fourth National Climate Assessment warns that if greenhouse gas emissions are not slashed there will be several degrees of global warming and major damage to the U.S. gross domestic product.
The report warns: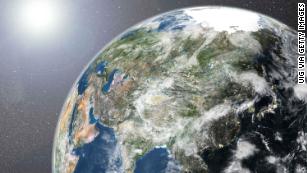 In the absence of significant global mitigation action and regional adaptation efforts, rising temperatures, sea level rise, and changes in extreme events are expected to increasingly disrupt and damage critical infrastructure and property, labor productivity, and the vitality of our communities. Regional economies and industries that depend on natural resources and favorable climate conditions, such as agriculture, tourism, and fisheries, are vulnerable to the growing impacts of climate change. Rising temperatures are projected to reduce the efficiency of power generation while increasing energy demands, resulting in higher electricity costs. … With continued growth in emissions at historic rates, annual losses in some economic sectors are projected to reach hundreds of billions of dollars by the end of the century—more than the current gross domestic product (GDP) of many U.S. states.
Meanwhile back in reality, The Wall Street Journal reports that global emissions continue to rise, though North America's share of global carbon emissions have dropped from 24 percent in 2004 to about 17 percent in 2013.
Instead of killing our current economy and our GDP now with emissions taxes and other futile attempts at eliminating fossil fuel emissions in the U.S., while the rest of the world carries on cavalierly, perhaps the U.S. should invest in research on adaptive strategies.
The report comes while the East Coast is experiencing record low temperatures. High temps are a sign of global warming, while low temps are just weather.
President Trump, a noted skeptic of global warming alarmism, tweeted on Wednesday, "Whatever happened to Global Warming?"
The report says that without mitigation temperatures will rise 9 degrees F by the end of the century.
It says Midwest crop yields will decline, but what about crop yields farther north?